CDSG Press
This is an all-volunteer operation provided as a service to our members and other interested parties. Credit card orders are accepted on the www.cdsg.org website. For mail orders, please send check or money order in U.S. currency.  Please note clearly in your order which items you are ordering and the address where they should be mailed. Allow for at least 8-10 weeks for delivery.
All prices include domestic or international postage, shown as $ domestic/ $ international.
Back Issues of the CDSG Publications & Electronic Documents
CDSG Publications 1985-2016 (Volumes 1-30), DVD
Adobe portable document format (PDF) files $55 / $55
Updated DVD can be purchased for) $10 / $10 (with photocopy of original DVD or tray insert)
CDSG Documents DVD. Price: $50 domestic and international mail. These documents cover a range of historical material related to sea­coast defenses — most from the National Archives. Included are PDFs of annual reports of the chief of coast artillery and chief of engineers; various board proceedings and reports; army directories; text books; tables of organization and equipment; WWII command histories; drill, field, training manuals and regulations; ordnance department documents; ordnance tables and compilations; and ordnance gun and carriage card records.
Documents related to specific harbor defenses. These PDF documents form the basis of the conference and special tour handouts that have been held at these locations. These collections are available as PDF files on DVD. They include RCBs/RCWs; maps; annexes to defense projects; CD engineer notebooks; quartermaster building records; and aerial photos taken by the signal corps 1920-40. Please consult CDSG EPress at www.cdsg.org for more details.
Past conference or tour sites include: Manila Bay, PI 1991; Oahu, Hawaii 1991; Los Angeles/San Diego 1992; Canal Zone, Panama 1993; Pensacola & Mobile 1994 ; Delaware River 1996; New York 1997; Tampa/Key West 1998; Columbia River 1999; Chesapeake Bay 2000; Portsmouth/North Boston 2001; Mississippi River 2002; Long Island Sound 2003; Charleston/Savannah 2004; Portland 2005; San Fran­cisco 2006; Boston 2007; Galveston 2008; Baltimore/Washington 2009; Puget Sound 2010; Wilmington, NC 2010; Narragansett Bay/New Bedford 2011; Newfoundland/Halifax 2011; Great Lakes 2012; Pensacola-Mobile 2013; Los Angeles-San Diego 2014; Delaware 2015; Portsmouth/North Boston 2016.
Books and Reprints
All prices include domestic or international postage, shown as $ domestic/ $ international.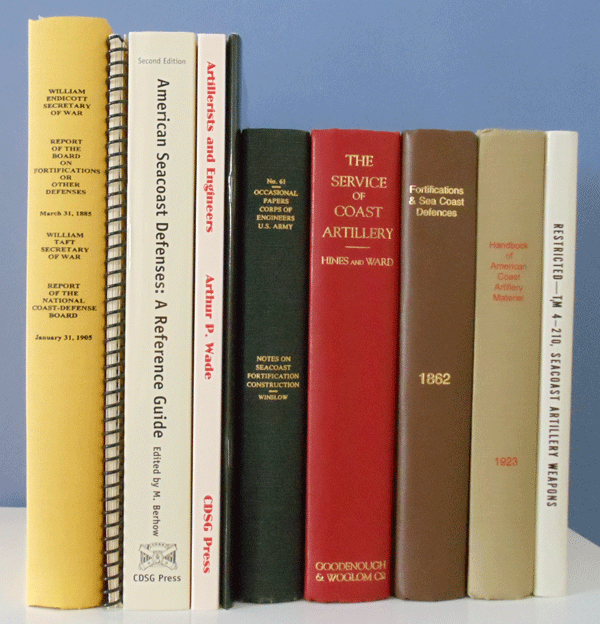 Notes on Seacoast Fortification Construction $45 / $60
by Col. Eben E. Winslow, 1920, 428 pp. (1994) reprint; hard-cover, with 29 drawings in a separate soft-cover volume
Seacoast Artillery Weapons
$25 / $35
by U.S. War Department, 1944, 202 pp. (1995) reprint hard-cover
Service of the Coast Artillery
$40 / $60
by F. Hines & F. Ward, 1910, 736 pp. (1997) reprint hard-cover
Permanent Fortifications and Sea-Coast Defenses
$30 / $45
by U.S. Congress, 1862, 544 pp. (1998) reprint hard-cover
American Coast Artillery Material
$45 / $65
by Ordnance Department Document #2042, 1922, 528 pp. reprint hard-cover (2001)
American Seacoast Defenses: A Reference Guide Third Edition, $45 / $80
by Mark A. Berhow, 2015, 632 pp. (Third edition, hard-cover)
The Endicott and Taft Board Reports 1886, 1905 and 1915
$45 /$80
by U.S. Congress.  Hardcover reprint (2007) with plates in separate softcover, 533 pp
Artillerists and Engineers: The Beginnings of American Seacoast Fortifications, 1794-1815
$25 / $40
by Colonel Arthur P. Wade, U.S. Army. Paperback, 226 pages.