American Seacoast Defenses: A Reference Guide
Third Edition
This book is now available from the CDSG Press for $45.00. Click here for ordering information.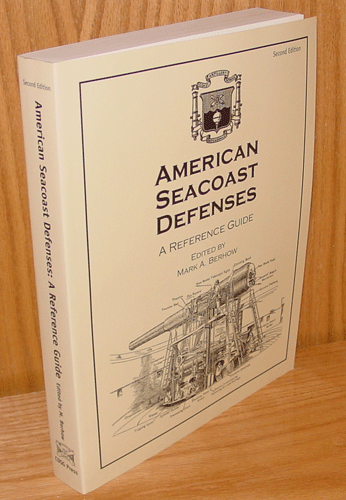 This book is intended for people interested in the study of American seacoast defenses, who want specific information beyond the introductory works most often available at the bookstores and gift shops at the various forts around the country, but who have not yet accessed the large amount of hard-to-obtain materials, such as those at housed the National Archives.
This second edition is the result of the efforts of many CDSG members, a true group effort to cover subjects that are of interest to the members of the organization. It is a compendium of information designed to provide quick answers to questions that arise when visiting a coast defense site-What was that tower used for? What kind of gun was in that battery? For the second edition, a great number of corrections, changes, additions, better illustrations, suggestions, etc., came from many CDSG members. From these, significant corrections and general upgrades to the sections already published were made and several new sections were added, including sections on the First, Second, and Third Systems, searchlights, garrison structures, ammunition hoists, radar, coast artillery organization, uniforms and insignia. This book can be used to bridge the gap between the introductory works published on specific forts and the more detailed information found in National Archives entries, CDSG Journal articles and other CDSG publications and reprints.
See example information from the guide on a 16 inch gun on a disappearing carriage
Table of Contents
Introduction 1 (by Mark Berhow)
US Seacoast Defense Construction, a Brief History
Harbor Defense Works of the American First and Second Systems (from Coast Artillery Journal, 1929)
Introduction to the Architecture & Weapons of the American Third System Seacoast Fortifications (By John R. Weaver II)
A List of the Coastal Defenses of the Third System 1816-1867
United States Coast Defense Fortifications 1870-1876 (by Joel W. Eastman, Bolling W. Smith and Glen M. Williford)
A Guide to the Weapons and Batteries of Modern American Seacoast Defenses (by Mark Berhow and Glen Williford)
Ranges and Characteristics of US Army Seacoast Artillery (1930s, 1944)
Nomenclature of US Seacoast Artillery Cannon & Carriages
Nomenclature of US Seacoast Artillery Gun Emplacements
Notes on Emplacements
Guide Notes
Guide to Carriage Models (main types arranged by gun caliber and model number):
3 inch-
M1898, MI masking parapet mount for 3-inch gun
M1902 pedestal mount for 3-inch gun
M1903 pedestal mount for 3-inch gun
M1917 pedestal mount for 3-inch AA gun
M1915 pedestal mount for 4.7-inch and 75 mm gun
M1918 mobile mount for 3-inch AA guns
M3 fixed mount for 90 mm gun
M1 barbette mount for 105 mm AA gun
4 inch-
Army pedestal mount for 4-inch navy gun
Armstrong pedestal mount for 4.7-inch gun
5 inch-
M1896 balanced-pillar mount for 5-inch gun
M903 pedestal mount for 5-inch gun
6 inch-
Armstrong pedestal mount for 6-inch gun
M1898 disappearing carriage for 6-inch gun
M1900 pedestal mount for 6-inch gun
M1903 disappearing carriage for 6-inch gun
M1905, MI, MII disappearing carriages for 6-inch guns
M1910 pedestal mount for 6-inch gun
M1, M2, M3, M4 barbette carriages for 6-inch guns
8 inch-
M1892 barbette carriage for 8-inch gun
M1894 disappearing carriage for 8-inch gun
M1896 disappearing carriage for 8-inch gun
M1918 barbette carriage for 8-inch gun
M1 barbette carriage for 8-inch navy gun
M1 railway carriage for 8-inch navy gun
Naval turret for 8-inch navy guns
10 inch-
M1893 barbette carriage for 10-inch gun
M1894MI disappearing carriage for 10-inch gun
M1896 disappearing carriage for 10-inch gun
M1896 disappearing carriage ARF for 10-inch gun
M1901 disappearing carriage for 10-inch gun
12 inch-
M1891 gun lift carriage for 12-inch gun
M1891 carriage for 12-inch mortar
M1892 barbette carriage for 12-inch gun
M1896 disappearing carriage for 12-inch gun
M1896 (M1&MII) carriages for 12-inch mortars
M1896MIII carriages for 12-inch mortar
M1897 altered gun lift carriage for 12-inch gun
M1897 disappearing carriage for 12-inch gun
M1901 disappearing carriage for 12-inch gun
M1908 carriage for 12-inch mortar
M1917 barbette carriage for 12-inch gun
M1918 carriage (railway) for 12-inch mortar
14 inch-
M1907, M1907MI disappearing carriages for 14-inch guns
M1909 turret mount for 14-inch guns
M1920 railway mount for 14-inch gun
Naval turret for 14-inch navy guns
16 inch-
M1912 disappearing carriage for 16-inch gun
M1917 disappearing carriage for 16-inch gun
M1919 barbette carriage for 16-inch gun
M1919MI barbette carriage for 16-inch navy gun
M2, M3, M4, M5 barbette carriages for 16-inch navy gun
M1920 barbette carriage for 16-inch howitzer
Mobile, oddities, rarities, "temporary," and "emergency" batteries-
1890s "rebuilt" and "emergency" batteries for muzzleloading guns
Modified Rodman carriage for 8-inch gun
Mounts for pneumatic (dynamite) guns
Wheeled carriage parapet mounts for 6-pounder guns
M1917 & M1918 tractor-drawn mounts for 155 mm guns
Modified M1918 mounts for 240 mm howitzers
WW II emergency batteries with naval carriages and guns
4.7-inch Schneider rapid-fire gun and mount
3-inch casemate mount
U.S. Coast Artillery Fort & Concrete Battery List 1890-1950 (compiled by Mark Berhow)
Introduction, notes and abbreviations
Harbor locations
Kennebec River, ME
Portland, ME
Portsmouth, NH
Boston, MA
New Bedford, MA
Narrangansett Bay, RI
Long Island Sound, CT & NY
New York, NY & NJ
Delaware Bay, DE & NJ
Baltimore, MD
Potomac River, MD & VA
Chesapeake Bay, VA
Beaufort, NC
Cape Fear River, NC
Charleston, SC
Port Royal Sound, SC
Savannah, GA
Jacksonville, FL
Key West, FL
Tampa Bay, FL
Pensacola, FL
Mobile Bay, AL
Mississippi River, LA
Galveston, TX
San Diego, CA
Los Angeles, CA
San Francisco, CA
Columbia River, OR & WA
Greys Harbor, WA
Puget Sound, WA
Oahu Island, HI
Manila & Subic Bay, the Philippines
Panama Canal Zone
Sitka, AK
Seward, AK
Kodiak, AK
Dutch Harbor, AK
Argentia, Newfoundland, Canada
Bermuda
Jamacia (planned)
Guantanamo Bay, Cuba
Vieques Sound, Puerto Rico & Virgin Islands
San Juan, Puerto Rico
Trinidad (planned)
US seacoast artillery batteries built or modified during the years 1935-1945 (by caliber)
Existing Seacoast Weapons List (by caliber)
Antiaircraft Artillery used by the Coast Artillery Corps (by Bolling W. Smith)
.30 cal. Browning Machine gun M1917
.50 cal. Browning machine guns
37 mm AA automatic gun
40 mm automatic gun
75 mm AA gun M1916, mobile
3-inch AA gun, fixed, M1917
3-inch AA gun, mobile, M1918
3-inch AA gun mobile, M1 & M3
3-inch gun, fixed, M2 & M4
90 mm AA gun
105 mm AA gun
120 mm (4.7-inch) AA gun
Sources
U.S. Army Coast Artillery Fire Control, Position Finding, and Gun Drill (edited by Mark Berhow, Fred Baldwin, John Martini, and Bolling Smith)
Position Finding and Fire Control: Background
Definitions and Description of Position Finding Systems
Fire Control (Base End) Stations
Organization & Duties I: the Headquarters and Range Sections
Coast Artillery Plotting Boards
Function of Position Finding Systems
Organization & Duties II: the Gun Section
The Firing Drill
Sources
Ammunition Service in American Seacoast Defense Batteries 1890-1945 (by Mark Berhow and Thomas Vaughan)
Introduction
Ammunition Storage
Ammunition Service: Horizontal movement
Ammunition Passages and Lobbies
Ammunition Service: Projectile Hoists
Crane (Davat) Hoists
Balanced Platform Hoists
Hodges Hoists
Raymond Hoists
Taylor-Raymond Hoists
Other Hoists
Ammunition Service: Powder Hoists
Sources
Controlled Mines in American Seacoast Defenses (by Mark Berhow and Greg Hagge)
Brief History
Controlled Submarine Mines & Components
Mines
The Mine Flotilla
Mine Planting
Shore Facilities for Mine Projects
Torpedo Storehouses
Cable Tanks
Loading Rooms & Magazines
Mine Tramways
Cable Terminal Huts & Mine Wharfs
Mine Casemates
Controlled Mine Fire Control Structures
Mine Tactical Organization
Sources
Searchlights in US Seacoast Defenses 1901-1945 (by Mark Berhow)
Historical Background
General Operation Principles
Fixed Searchlight Projectors
Classification of Searchlights
Location of Fixed Searchlights
Designation of Searchlights
The Searchlight Squad
Mobile Searchlights
Antiaircraft Searchlights
Tactical Employment of Searchlights (1940)
Sources
Seacoast Artillery Radar 1938-46 (by Danny R. Malone)
SCR 268
SCR 296A
SCR 582/682A
SCR 547
SCR 548/598
MPG-1
Sources
Coast Artillery Corps Organization 1907-1943 (compiled by Mark Berhow with assistance of Bolling W. Smith and William C. Gaines)
Coast Artillery Companies, 1901-1919
Coast Artillery Organization and Personnel (1909)
Organizations from Coast Artillery United States Army, Coast Artillery National
Guard, and Coast Artillery National Army Quotas, Supplied to A.E.F. Heavy
Artillery, A.A.C. Artillery, Trench Mortar Artillery, Trains, etc. (Nov. 1918)
A Regimental Organization for the Coast Artillery Corps & list (1924)
Coast Artillery Corps Regiments and Battalions 1924-1943 (August 1949)
Active Coast Artillery Regiments and Batteries of the Regular Service, list (1925)
Coast Artillery National Guard Organizations & Coast Artillery Reserve Units, list (1925)
Reorganization of Harbor Defenses in the Continental United States & list (1930)
Organization of the Coast Artillery Corps (1937)
Coast Artillery Corps Unit Station List (August 1, 1940)
Terms Related to Coast Artillery Operations In WW II
Barracks, Bakeries and Bowling Alleys Non-Tactical Structures at US Coast Artillery Forts(by Mark A. Berhow, Joel W. Eastman, and Bolling W. Smith)
Quartermaster Records and Plans
The Puget Sound Forts: Military Posts to State Parks
Cantonments and Temporary Non-Tactical Buildings
A Gazetteer of Remaining US Army Coast Artillery Garrison Areas
Uniforms and Insignia of the Coast Artillery Corps (by Greg Hagge) Flags for the Coast Artillery (by Bolling W. Smith)
Heraldry of the Coast Artillery Corps
Legend and Lore of the Coast Artillery Corps (compiled by Mark Berhow)
Coast Artillery Punch (receipe)
The Oozlefinch, Mythical Mascot of the Coast Artillery Corps, Ye Ballad of Ye Anciente Cosmoline (poem)
Coast Artillery Song (1918)
Coast Artillery Marching Song (1918)
Crash on Artillery, Coast Artillery Song (1934)
Symbols and Abbreviations for Engineer Maps (by Mark Berhow)
Symbols & Abbreviations, 1909
Symbols & Abbreviations, 1921
Changes in Designations, 1925
Symbols & Abbreviations, 1940
Primary Source Materials, an annotated bibliography (by Mark Berhow and Matt Adams)
Reports/Records/Histories/Regulations
Field and Technical Manuals
Ordnance Department Documents
Journals/Books/Texts
Reports of Completed Batteries & Reports of Completed Works
Annexes to Harbor Defense Projects
United States Coast Defense Sites 1945-2004 (by Joel W. Eastman, Bolling W. Smith & Mark A. Berhow)
A Short History of the Coast Defense Study Group 1978-2004 (by Terramce C. McGovern)
General Index